Best sellers: stacking rings
November 5, 2015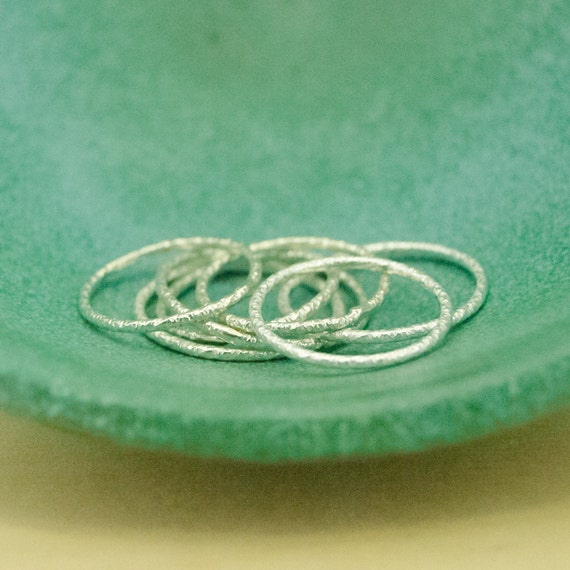 Now that I've done a few markets this year, I've noticed something that seems to be a trend:
Every show I do, my absolute #1 best sellers are stacking rings. I make them in sterling silver and 14K gold-fill, in a bunch of textures and a bunch of sizes. I set them out in rough size order on a multiple-finger ring display, and encourage people to touch and try them on.
The one thing I don't do with my stacking rings is put them on sale. They're priced the same online and in the real world, and I've found that even though I sometimes get a disappointed look or a "wow, these are a little expensive" comment (which I don't think I'm supposed to hear), the rings still sell at my chosen price point.
This is particularly true of the gold-fill ones. I use high-quality metal from a reputable source, so I can confidently say that they gold's not going to rub off, and it's not going to turn your skin green or provoke an allergy. Green skin seems to be of particular concern to many, which I understand — a lot of the gold-toned jewelry I see at indie markets and boutiques tends to be a brass alloy, which can react with people's skin.
I still need to figure out, though, how to best display the rings to continue to encourage people to touch them without creating a traffic jam at my table — but that's a rather nice challenge to have!